Featured Video Cookbook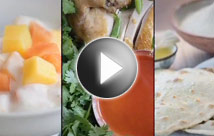 Table of Contents
Raghavan's Indian Flavors - For iPad, iPhone & iPod Touch
25 Succulent Dishes, Classic to Contemporary, for the Indian in You
Raghavan Iyer
My students assume I learned to cook at my mother's or grandmother's feet, perhaps watching as they stirred pots of bubbling curries, vigorously stir-fried cabbage, coconut, cumin, and cilantro in cast-iron woks, or patiently cut chunks of green mangoes to smother them with potent cayenne, turmeric, salt, and popped mustard seeds.

How I wish that romantic imagery was true! The reality is, I learned to cook the Indian way in a prairie-flat foreign land that was spiked with stalks of corn, using grocery store ingredients that seemed accessible: potatoes, onions, tomatoes, and corn with a mere handful of simple spices from the spice aisle. My first attempts were not to recreate 6000 years of incredible flavors, nuanced with layers of aromatic herbs and spices, but simply to bring in an essence of home cooking from my mother's kitchen from southern India.

It's those important trials, tribulations, failures, and eventual successes that I mastered over almost 30 years, through my books, teaching, and consulting career that I bring to the table to make your task of cooking the Indian way an easy one.

Spices are the spine that props the Indian body of curries, stir-fries, chutneys, breads, legumes, vegetables, and grains, and I will show you how to use them every step of the way and what to do to extract as many as eight flavors from a single spice.

In this app, I provide an innovative, no-nonsense, expedient approach to execute and savor amazing flavors from one of the world's most ancient cuisines. The 25 recipes capture the essence of authentic and inspired Indian cooking for the busy 21st century cook that can be assembled with fresh, local, and easy-to-procure ingredients in mere minutes. The ability to keep active preparation time for most of the dishes under 30 minutes, with explicit instructions to help you along, will make Indian cuisine all the more accessible. Helpful hints, quick-tips, and convenience products where applicable without compromising on the integrity of the flavors pepper the app that include starters, mains, sides, and desserts. The cream that tops these easy-to-replicate dishes: more than 75 videos of me hand-holding you through what ingredients like asafetida, chappati flour, and skinned black lentils are all about, techniques that show you how to fold the perfect cone-shaped samosas or roll out dough the right way for making fluffy-thin rotis.

TheInformedChef Video Cookbooks
- our current library of available cookbooks
Let the authors introduce you to their cookbook - be sure to look through the Table of Contents for an overview of what each contains.