Featured Video Cookbook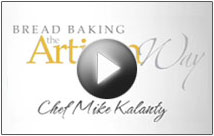 Table of Contents
Bread Baking the Artisan Way - For iPad
25 Favorites from the Baking Classroom
Chef Mike Kalanty
Want to bake your own breads but afraid you'll "kill the yeast" ?
Bread Baking the Artisan Way
helps you break through this barrier.
Traditional bread books assume you already know what they mean by directions like:
"Place in a warm spot to rise"
or
"Condition the dry yeast in warm water"
.
But what do these instructions really mean?
To see how you properly
"knead dough until smooth"
for example, click on the link and view the video. Watch the chef's hands close up. Watch them again. Practice moving your hands with the same gestures. All while sitting in your comfy chair.
Let Chef Mike teach you professional baking techniques and how to use them in your own kitchen. When you've got real live dough on your workbench you'll be confident to
"knead the dough until smooth"
and know exactly what you're doing. You'll never be "afraid to bake bread" again.
Bread Baking the Artisan Way
includes 25 of America's Favorite breads. Easy. Fool-proof. And great-tasting. The recipes are taken from chef's
How To Bake Bread: The Five Families of Bread®
, winner of
"Best Bread Book in the World"
at the Paris Cookbook Fair.
TheInformedChef Video Cookbooks
- our current library of available cookbooks
Let the authors introduce you to their cookbook - be sure to look through the Table of Contents for an overview of what each contains.