Featured Video Cookbook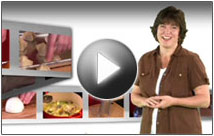 Table of Contents
Counter Intelligence - For For iPad, iPhone & iPod Touch
25 Delicious Dishes and Endless Meal Possibilities for the Inquisitive Cook
Meredith Deeds
Deciding on a main course for dinner can be a daunting chore, whether it's for family on a Tuesday night, or for company on the weekend. Deciding what to serve alongside that main course can often feel equally overwhelming. That's how most homecooks find themselves in a rut, turning to the same few meals again and again. Let
Counter Intelligence
help you mix it up tonight with mouthwatering recipes and lots of new menu ideas, from casual to elegant.
With everything from appetizers to desserts, this cookbook is filled with recipes that can be mixed and matched to create countless meals. In addition, each recipe is accompanied by gorgeous photography and filled with short video clips that will guide you through the important techniques and ingredients you need know to execute the recipe successfully. This innovative format allows me to virtually be in the kitchen with you, guiding you step by step through every recipe.
TheInformedChef Video Cookbooks
- our current library of available cookbooks
Let the authors introduce you to their cookbook - be sure to look through the Table of Contents for an overview of what each contains.