Featured Video Cookbook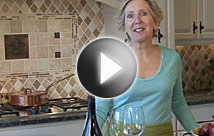 Table of Contents
Serves Two - For For iPad, iPhone & iPod Touch
25 Complete One Pan Dinners for Two Busy People
Carla Snyder
Making dinner can be one of the most daunting tasks of the day. It's late, you're tired… brain dead actually. You're too exhausted to go out for dinner. All you want to do is eat a nice warm meal at your own table in your own home and decompress. Maybe with a glass of wine or even a cocktail.
Serves Two
is the answer to your dilemma. Inside its pages are recipes for complete made-from-scratch-meals, with one pan clean-up and ready to eat in about 30 minutes. These are not casseroles, but dishes like Roasted Halibut with Fingerlings and Chimichurri Mayo, Braised Chicken Involtini with Tomatoes and Capers and Whole-Wheat Pasta with Chicken, Snow Peas and Peanut Sauce. How is this possible? I've condensed my knowledge as a cooking school instructor, caterer and recipe developer and paired foods with similar cooking techniques, to make a meal in one pan.
TheInformedChef Video Cookbooks
- our current library of available cookbooks
Let the authors introduce you to their cookbook - be sure to look through the Table of Contents for an overview of what each contains.